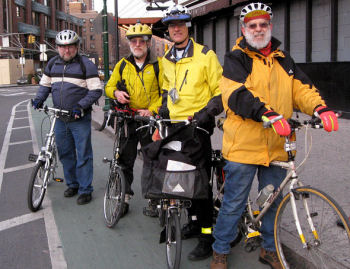 On December 4 through 7, 2008, John Schubert, John Allen and John Ciccarelli, members of the Bicycle Technical Committee of the National Committee on Uniform Traffic Control Devices, visited New York City to have a look at bicycle facilities.
Long-time New York bicycling advocate and planner Steve Faust and his wife Linda hosted two of us. Steve led us on a guided tour. Caroline Samponaro of the New York City Department of Transportation and Bike Friday's traveling Customer Evangelist Lynette Chiang also assisted us in our explorations -- many thanks to them!
Click on the photo above to see a larger version identifying the perpetrators.
We wrote up comments, took photos and shot video. Documentation which is now available on the Internet is listed below.