Fish, bicycles and Muppets
Sesame Street is a popular children's television show which has been running on the stations of the Public Broadcasting System in the USA since the late 1960s; there are also versions in many other countries. Bicycles are the theme of the "Elmo's World" segment of Sesame Street show #3969, in the 2001-2002 season.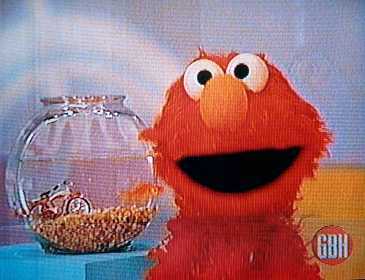 Elmo, the little, furry, red Muppet (Jim Henson puppet) who always refers to himself in the third person, is enthusiastic about every topic he addresses, including bicycling -- and Elmo has a pet fish, Dorothy. In this segment Dorothy has a model bicycle in the goldfish bowl with her. Have a closer look:
It is hard to avoid speculating that the fish with the bicycle was intended as humor aimed at parents, over the heads of the preschool audience of Sesame Street. Putting a bicycle into the fishbowl can hardly have been a coincidence.
In the "Elmo's World" segment, there is some encouragement of kids to overcome the difficulties of learning to balance a bicycle, and there's a lot of helmet promotion -- including, unfortunately, a couple of shots of kids wearing improperly adjusted helmets.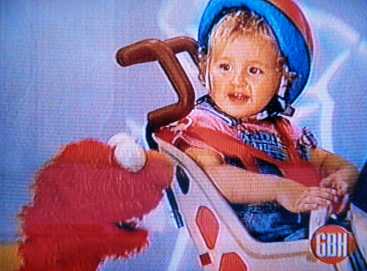 There are many jokes on the level of "we're the Bicycle Channel, all bikes, all the time, and I'm their spokesperson."
Toward the end of the segment, Elmo and Dorothy are joined by a talking bicycle (lower right in screen shot below), whose repeated message is "you can ride me" to which a talking helmet, floating in mid-air (upper left in screen shot) always adds, in a gruff and insistent voice, "but not without me."
As an aside, I am surprised that the Rev. Jerry Falwell, of the Moral Majority (a Christian fundamentalist group in the USA) has not focused his wrath on Elmo and Sesame Street.
Falwell once attacked another children's show character, Tinky-Winky the Teletubby, claiming that Tinky-Winky promoted homosexuality, being purple -- a color which Falwell regards as symbolic of homosexuality. I'm not sure this purported connection would leap out at the typical three-year-old watching the show...
The fish/bicycle paradigm is an expression of militant feminism, and besides, Elmo is red, and red is a diabolical and un-American color unless it is accompanied by white and blue. Where is the Rev. Falwell when we need him?
But Falwell's attack on Tinky-Winky was never followed by an attack on Barney the Dinosaur, even though Barney, like Tinky-Winky, is purple, and therefore, according to Falwell's reasoning (??), also must be a homoerotic sorta foam-padded fleece-covered sweaty-actor-in-a-costume PBS kiddy show character. Try and figure.