Q & D's Limulus
The new Limulus loudspeaker system from Q & D (Quiecke & D'Erde Laboratory Component Systems) is hard to describe even with this photograph. The quasi-hemispherical woofer compartment is rear-loaded by a folded, absorptive, vented transmission line. The forward-firing,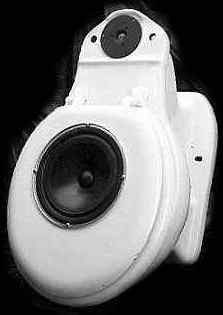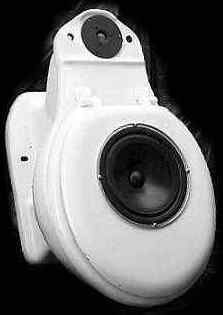 one-inch soft-dome tweeter is mounted using "enclosureless" technology, on a panel with rounded contours. The tweeter leads are routed through an internal channel to the passive crossover in the woofer compartment. The front face of the cabinet is rounded at the base and narrow at the top, in the style of a horseshoe crab's carapace which has become upended on a Cape Cod beach, whence the name.
The cabinet is constructed of glazed, kiln-fired high-density vitreous china. The photo shows only a dull gray, whereas in real life, it's a gleaming, glossy white. The Limulus may rest on the floor as shown, so the upward tilt of the drivers radiates sound directly into the prime listening area. Alternatively, the convenient mounting holes at the rear and top permit the system to be suspended by cables from the ceiling or bolted to a wall. For such installations, the assistance of a professional carpenter is recommended. Weight of the system is approximately 50 pounds.
This system is not yet available in finished form; however, it is uniquely suited to home building projects, according to manufacturer's literature. Further information including full-scale plans and a parts list may be obtained by contacting the Q & D R & D department directly.